Are you Australia's next singing superstar?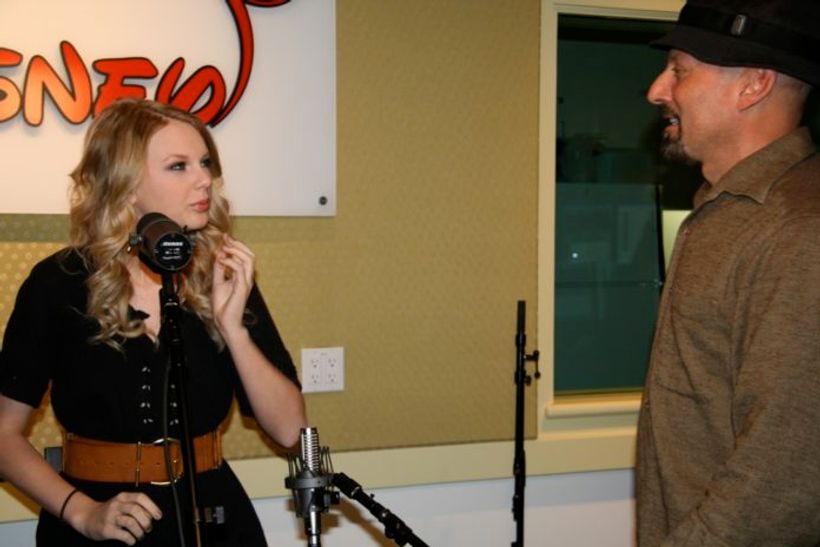 This is your chance to collaborate with the producer who has worked with the biggest names in music like Michael Jackson, Queen, Madonna, Pearl Jam, Miley Cyrus, Demi Lovato, Stevie Wonder and more.
Djooky Music Awards (DMA), the first global online song contest, is seeking out the most
talented artists and songwriters from Australia and around the world in a search for someone to become the next biggest singing sensation. Is that you or someone you know?
The competition is open to amateurs, professional songwriters and musicians.
One budding artist will have a once in a lifetime opportunity to record with the legendary Brian Malouf – a world-recognized American producer, engineer, and mixer who has worked with some of the golden names of music.
Brian is the co-founder of Djooky, the music platform launched earlier this year with an important mission: democratise and decentralise the global music industry. Could he be the Elon Musk of the Music industry?
Taylor (Tay Tay) Swift working with Brian Malouf
'Reviewing the nominations from the artists who have already registered to take part in the Djooky Music Awards, it becomes clear that we have found a treasure trove of undiscovered music. I give a lot of credit to the surge in music tech development and global broadband penetration which has provided access to the most remote corners of the world where authentic talents are creating beautiful music. Add to this a global pandemic which has locked everyone up in their homes with time to think and create, and you get an ocean of new and fresh names in music, destined to become tomorrow's success stories,' says Brian Malouf.
Watch Brian's video calling for applications here.
The concept of the platform is to create a fair ecosystem for artists so that the only barrier is the size of their talent. The competition is born as a way to operationalise this idea of
catapulting the new talents who normally do not have access to these opportunities.
Anyone who works with Kenny Loggins is a legend in my books
To apply for DMA, musicians and songwriters must register and upload their songs until
February 20 at https://djookyawards.com/ . Unlike other music contests, any user of the
platform can listen to the music of the nominees worldwide and take part in modelling the weekly charts of winners by awarding them voting points, while the global results will be determined as follows: 50% by Djooky users and the other 50% will be defined by a panel of judges recognized in the music industry globally.
Yep That's Brian Wilson of The Beach Boys
That panel of experts includes Patrice Rushen, three-time Grammy nominee jazz pianist, R&B singer and music director, Sacha Skarbek, producer and songwriter responsible for co-writing James Blunt's successes and Miley Cyrus' 'Wrecking Ball', Justin Gray, songwriter and producer who has collaborated with a range of music stars like John Legend, Mariah Carey or Amy Winehouse, and Brian Malouf himself.
The awards
Artists can win an online recording session with Brian and then a trip to Capitol Studios (LA,
USA) to meet with Brian personally once travel is allowed. Once in LA, the winner will have the opportunity to record a song with world-class production teams, coaching sessions with the world's best music experts, and cash prizes*.
The dates of the DMA Winter Edition stages are:
The national voting round: Sunday, February 21, 2021.
Continental voting round: Wednesday, February 24, 2021.
Global voting round: Saturday, February 27, 2021.
Brian ready to party at one of his swanky Awards nights…..He probably won.
Due to the pandemic, talent shows, festivals and song contests had been cancelled, leaving new artists without the opportunity to showcase their talent. Djooky Music Awards is a not-to-be-missed chance for emerging musicians to showcase themselves and build a future in the industry.
Artists from over 110 countries representing all six continents have already registered, and there are still a few weeks left before the closing of applications. If you don't want to miss the opportunity to try and record a song with Brian Malouf, watch the video below.
About Djooky
Djooky Inc. is the US registered state-of-the-art music and technology startup with an ambition to
democratize and decentralize the global music industry. Djooky Inc. officially launched its operations in April 2020, but the team had been working tirelessly on the concept for the past 2 years. Through his soon-to-be-revealed breakthrough technology, Djooky aims to create a lasting social impact in the industry. Djooky is building an ecosystem where musical talent knows no boundaries and enjoys access to growth opportunities.
The Djooky Music Awards are a vital part of this ecosystem presenting emerging talent to the
community and fully reflecting the brand's vision.
Djooky operates as an international team based in Los Angeles (USA), Berlin (Germany), London (UK),and Kyiv (Ukraine). The company is endorsed and co-founded by Brian Malouf, a multi-platinum American producer who has worked with artists such as Madonna and Michael Jackson.
For more go to https://djookyawards.com/